We won't lie: when it was announced that Colton Underwood was this season's star of The Bachelor, we were not all that excited.
His main story from Becca Kufrin's season of The Bachelorette was that he was a virgin who previously dated Tia Booth, and that story continued over to Bachelor in Paradise, where we watched him end things with Tia and struggle with every part of their relationship. We were all worried that as the Bachelor, far too much uncomfortable emphasis would be placed on his virginity.
That did turn out to be the case, but in spite of the show's questionable handling of that aspect of his life, Colton turned out to be one of the better Bachelors in a long time. While we groaned at jokes the women made or jokes the show itself made, or after a few too many showering scenes (still not quite sure what that's about), we never groaned at the way Colton talked to the women he was dating, which is a pretty big deal considering what we've been through in many of the past five or so seasons of this show, ever since everything was "OK" with Juan Pablo.
And then, in last night's episode, Colton was about as respectful and understanding as he could have been when it came to Cassie telling him she wasn't sure and she wanted to leave, ignoring the normal rules of the show to go after what he thought he wanted—a way more realistic reaction than just "I can't tell you if I love you or not because I can't ruin this TV show, but please stay in case I do love you."
What ended up being the thing that bothered us about this season was the women, or rather the arguments that came up between them, that then got rehashed during tonight's Women Tell All.
First, there's Demi and Courtney. Demi came in as a sort of Corinne Olympios-kind of contestant, doing everything she could to stand out and become the meme of the season while still participating in all the ways she needed to. Courtney played her opposite, the one who immediately acted threatened by everything about Demi, only talked about Demi at any opportunity she got, and forgot to do anything about her own relationship with Colton—the whole alleged reason she was there. Courtney's really bad decision to shove a pacifier into Demi's mouth fell totally flat, while Demi's attempt to introduce Courtney to Colton for the first time was actually funny, because neither Courtney nor Colton could seem to dispute the fact that they never really talked at all. How could Courtney be there for the "right reasons" if she never even talked to the guy?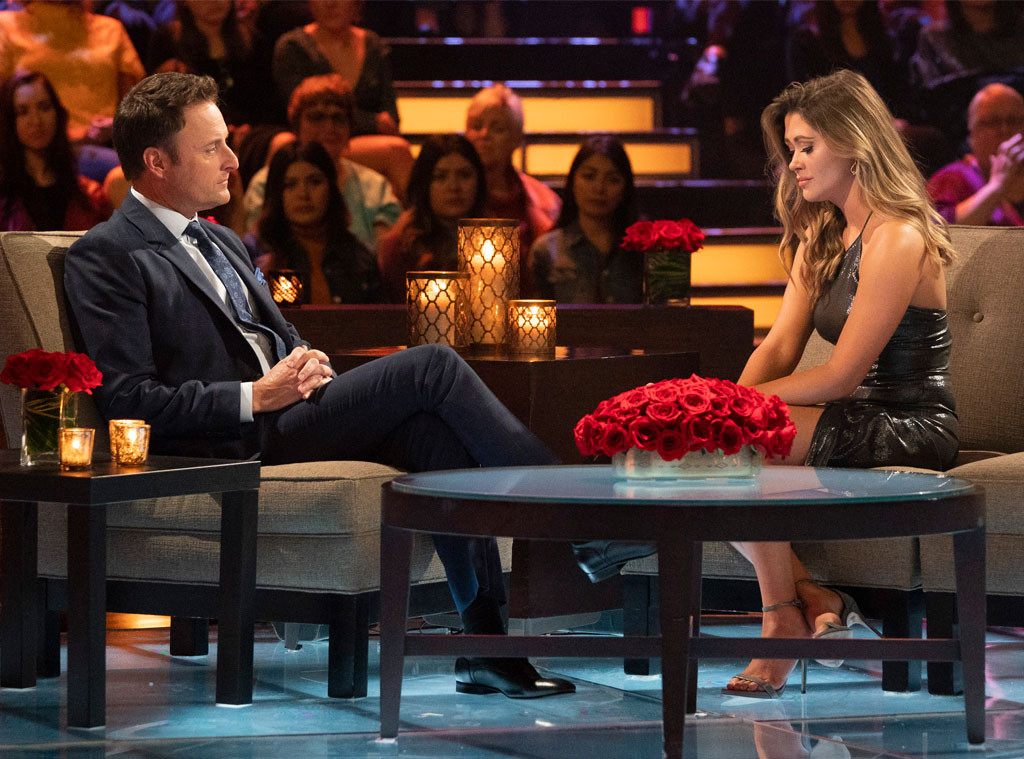 Eric McCandless via Getty Images
Pretty quickly, the big issue of the season was that whole "right reasons" thing, especially as the women started to zero in on who Colton's frontrunners were. As women left one by one, they warned Colton to watch out for Caelynn and Cassie, who had been apparently overheard discussing the possibility of becoming the next Bachelorette.
Caelynn explained it during Tell All as a conversation that was more like "If I get engaged to Colton, I hope you're the next Bachelorette," though the other women did not seem to buy that. The fact is that any talk of "next Bachelorette" is unofficially forbidden, because if you're thinking about The Bachelorette or Bachelor in Paradise, you couldn't possibly be all in on a relationship with Colton.
What this show still struggles to deal with is the plain and obvious fact that only one out of 30 women might end up with Colton at the end. That's how this show works, how it has always worked, and it's the thing that every contestant is pretending they don't realize. It's approximately a thousand times more likely that a contestant will end up on Bachelor in Paradise or in contention to be the next star than that they'll end up engaged to the current star. In fact, it's not guaranteed that anyone will end up with the current star.
It's completely realistic for anyone to be thinking that now that they're in it, now that they're on the show, their likely future is to join the ever-growing world of Bachelor Nation, and that their best shot at finding love both in this franchise and on their own terms at this point is to become the next star. It's exactly what any normal person would be thinking, and "If I get engaged, I hope you become the Bachelorette" is actually the kindest, least self-centered way of expressing that at all.
So if that's what Caelynn actually said, then is everybody just mad at her for daring to utter out loud even the slightest bit of what they were also thinking?
One thing that's been so refreshing about Colton in general is how he's acted in the past few episodes. He heard the warnings against Caelynn and Cassie but he felt a connection with them, so he chose them anyway. He saw that Cassie wasn't ready to commit in any form after knowing him for a matter of weeks, so he made sure she knew she didn't need to commit to anything. He kept Demi around until it made sense to cut the relationships that were entertaining but not serious. He also agreed to film all those shower scenes, understanding what the people apparently want.
He seems to realize this is a show, but also that he can do whatever he needs to do as the star of the show. Maybe he also knows that that makes an even better show than the cookie cutter version that ends with a proposal after women are eliminated in systematic rose ceremonies over the course of two months. Or maybe he just literally was doing whatever his heart told him to do in the moment, but either way, he made this a more interesting and realistic-feeling season than we've seen in a long time, and we're heading into a finale with not a clue how things are going to turn out.
If only most of the contestants could have gotten the same memo Colton did, maybe this season could have been the shake-up this franchise is starting to feel like it needs…and we wouldn't have spent the entire time just waiting for Colton to jump over a damn fence.
The Bachelor's two-night finale airs Monday and Tuesday at 8 p.m. on ABC.