These bra liners that stop you sweating have so many positive reviews
Ah, summer, you provide so many brilliant opportunities: hazy nights on rooftop bars, gallons of Whispering Angel and an excuse to buy bikinis by the bucketload. However, damn you for nights so hot that we struggle to sleep and, well, sweat.
Temperatures are soaring so high that we're sweating from every nook and cranny on our bodies – including our boobs.
If you too are struggling with this awkward summer beauty blunder, help could well be at hand courtesy of these bizarre bra liners, which promise to trap perspiration.
The £21.95 Belly Bandit Don't Sweat It bra liners have been going viral across social media, according to Her.ie, thanks to their sweat-fighting prowess.
The bra liners' product description reads: "It's time to cut the B.S. – Boob Sweat, that is! Our Don't Sweat It bra liners minimise the effects of unsightly and uncomfortable under-boob perspiration. Simply slide our discreet liner beneath the bottom of your bra and say goodbye to wet clothes and irritated skin."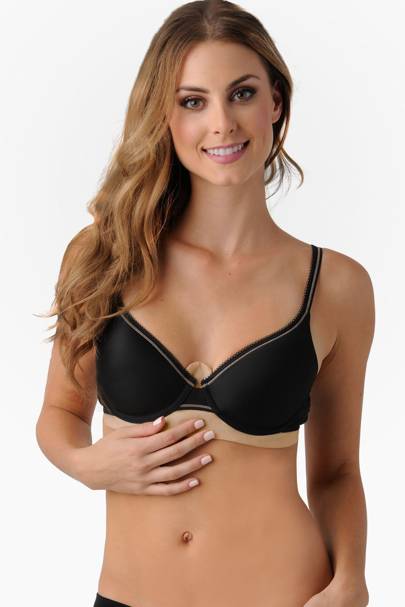 So how do they work? The people behind the genius bra liners say the soft, viscose from bamboo material gently absorbs moisture while moving with your body. "Any size, any age or any activity – these sweat soakers are the perfect way to stay dry and comfortable around the clock," apparently…
It seems that they actually do what they say on the pack.
How the hell do we sleep in this heat?! 5 foolproof tips to help you drift off (and keep your sanity)
One shopper took to the reviews section to rave about the bra liners, writing: "Can't wait to use the Don't Sweat It this summer. I have used it a few times just to see if it is comfortable and it is! It never slips around and I don't even notice it. It hasn't been warm enough yet to be super useful but I can tell it will be such a help in the southern summers!"
Meanwhile, a pregnant woman took to the reviews section to write: "The Don't Sweat It have been a life saver this summer during my pregnancy!! They help absorb excess sweat and also provide padding between the underwire of my bra and my growing belly. They are very comfortable! I definitely notice a difference when I don't wear them! I bought one in each colour so I can wear them with all outfits!"
Underboob sweat, be gone!