The Emmy nominations for 2019 are officially in – and is it just us or did awards season just get inclusive? In comparison to other awards, this year's Emmy nominations are jam-packed with some of the most progressive TV shows to ever grace our screens, and we are HERE for it.
From powerful female leads to the ultimate celebration of the transgender community, there's never been a better reflection of the changing times we're living in.
The standout nomination is Pose, Ryan Murphy's boundary-breaking drama that's swept up an Outstanding Drama Series nomination. The series delves deep into the misunderstood lives of queer and trans people during the '80s, exploring necessary conversations about the reality of racism, sexism and transphobia.
What once may have been regarded as controversial territory is being globally recognised as an important, timely and all-round brilliant show. Yaaas!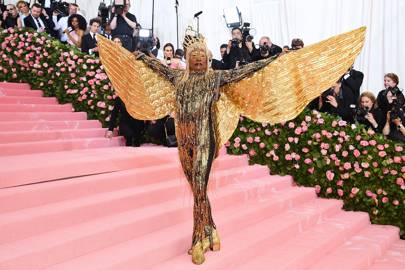 The show's lead actor Billy Porter has also been nominated for Outstanding Lead Actor. The first-time nominee of colour took to Instagram to celebrate this milestone moment for gay, black men. "I am so overwhelmed with joy and gratitude. There was no context for this before….to be an openly gay black man nominated for a leading actor drama #EmmyAward – it just didn't happen. And now, I'm living truth that it can be possible," he wrote in the heartfelt post. "And then it goes much deeper. It's about representation. It's about all people's stories being told."
Fellow TV buffs will also be thrilled to see two of TV's most adored women and certified GLAMOUR girl crushes, Phoebe Waller-Bridge and Jodie Comer, have been recognised for their unbelievably epic performances in Fleabag and Killing Eve. Years ago, female-led shows didn't exist or were overlooked but in 2019, they are taking centre stage.
Another powerful female rising through the ranks is Joey King. The 19-year-old lead actress of Hulu's The Act posted a video to Instagram of her bursting into tears on discovering she had been nominated as lead actor in a limited series. "To be nominated for an Emmy in a category with such INCREDIBLE nominees by my side, especially Patricia is the most surreal feeling," she captioned the video. "I haven't stopped crying."
However, that's not to say we don't have a long way to go, namely the fact that women of colour were unanimously shut out of all comedy categories with not a single nomination in the lead and supporting comedy actress categories, highlighting the gender and race bias in comedy.
There's no denying diversity in entertainment is a work in progress, but we're also all about celebrating the small victories. And this is absolutely one of them.