As the Victoria Beckham autumn/winter 2019 runway is dismantled, surrounded by the Tate Britain's iconic works of art, another great British icon strides over, VB herself – flanked by her new partner in YouTube crime, Derek Blasberg.
Settling down – on the now deserted fashion show rows – we delve right in and discuss Victoria's latest new project, a YouTube channel that she was encouraged to set up by her longtime pal, Derek (who has now added the title of YouTube Head of Fashion and Beauty to his epic CV). VB is right at home, back with a mic in hand.
Are you excited for the release? I ask. Victoria laughs, "Or the fact I've got a mic and you never know what might happen. I can finally Tina Turner!"
VB's sing-alongs on her YouTube channel are certainly what the public want, but the fashion designer who recently celebrated a decade in the business, isn't so convinced. "Listen, everyone said I can't sing, so it's not like I have to worry about my true vocals being put out there into the public domain! If you want that, you need to go see the Spice Girls on tour!"
Mics and singing aside – Victoria reveals why she is ready to go makeup free to show her 'authentic self' on her YouTube channel. While Harper is off camera styling hairstylist Ken Paves' mane, VB gushes about how her daughter is an environmentalist and beauty obsessive in the making, and why she wants her upcoming beauty brand to be not only cruelty-free, but also as sustainable as possible…
Watch the full video above to hear it all from VB herself, or scroll down for a snippet of the interview…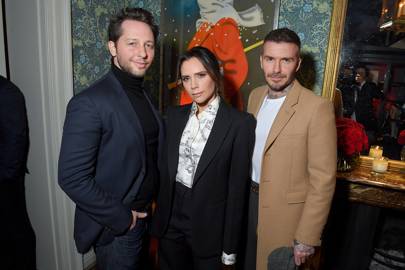 My YouTube channel is going to show the real me – it's important people don't see the perfect version of [me]…
"I did see one of the shelves [an insider word for YouTube videos FYI] back the other day and you really do get to see the real me. I am not being too precious about it. Sure, I looked at it and thought, 'Shall I take that out? I am not sure about how I look!' But that's me and I think it is important people don't just see the perfect version of. It's good to celebrate who you are. I will be showing myself without make up on! It will be everything from fashion, to beauty and my family, who are with me everywhere I go. I think Harper is the one of the first people the cameraman actually interviewed after the show today. She was ready for her take on the collection.It's a great platform. It's not one I have done an enormous amount on, or knew an enormous amount about, so it's been great working with Derek to figure out more – the opportunities not only for the business, but for me to communicate with my customer."
I never look at negative comments online…
"Just don't look at it. I always think, 'Everyone is really nice to me,' because I just don't read the horrible things. I mean why would you?! That's so negative and I like to put out a positive energy, especially of women supporting other women. I think that is really important. I have wanted to empower young women and girls since I was really young with the Spice Girls and that message is still the same. Now it is empowering women through fashion and beauty as opposed to music."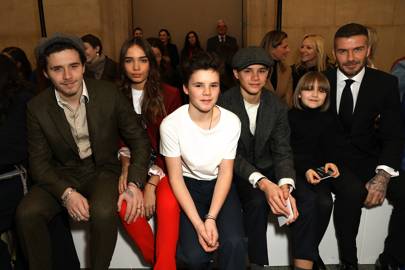 I am on a mission to make a beauty brand of the future that's not tested on animals, can be as sustainable as possible AND my customer's know what is actually in it…
It will be everything from makeup to skincare and anything that comes under the wellness umbrella. I have been doing a lot of research and really educating myself. As a consumer I really want to know what is in product. It doesn't mean things can't be active, but as a woman I want to know exactly what I am putting on my skin. I am making that a personal mission for the consumer to understand what is actually in the product. I won't be testing on animals, which is something I feel VERY strongly about. Also, I will look at how sustainable I can make the product, also the packaging too. I have a strong point of view and as a woman I know what I want in my makeup bag and what skincare I want. As with everything else, including fashion, it is about creating products I want myself – beauty will be the same. I think it's about creating a beauty brand of the future. I think a lot about the beauty industry is still very old-fashioned. Why is it so confusing for the consumer to know what is in products? When what you are using and putting on your face could potentially be very damaging and dangerous."
Harper loves playing with makeup – but she definitely doesn't go out wearing it…
"She loves beauty. She likes to play with makeup. It's a great thing you can do as a mother and daughter. But she definitely doesn't go out wearing makeup – that would be a little inappropriate! She's very interested in what am I using on my body and also shampoo. I am teaching her and she is passionate. The younger generation really do care about the environment, they care about what they are putting on their skin, they care about sustainability – so it's really important."
Victoria Beckham's YouTube channel launches this week