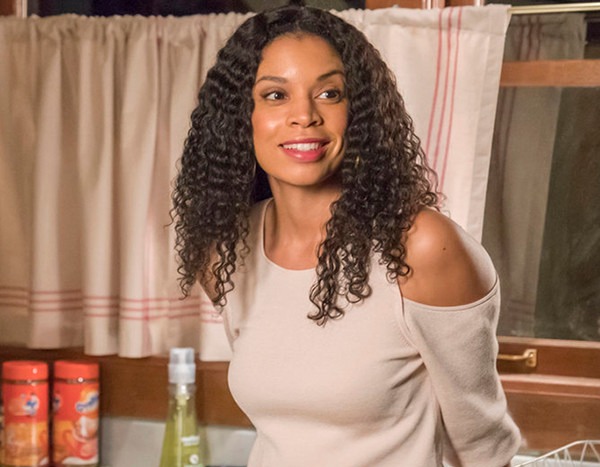 Beth (Susan Kelechi Watson) may have rediscovered her passion on This Is Us, but that doesn't mean all is totally well in her marriage to Randall (Sterling K. Brown).
The show's most solid couple has been a little less so this season, with Randall testing everybody's patience (including ours) with a campaign for city council in a totally different state. Now, he's won the campaign, and that's left a lot of things up in the air.
Tonight's episode, "Our Little Island Girl," brought Beth back to her love of dance, and by the end of the night, she was not only proving how good she still is at dancing, but she was asking to teach, meaning we're now on our way to seeing her running things in those flash forwards.
While this is very good news for the currently unemployed Beth, it doesn't help things in terms of how shaky Beth and Randall have been as of late.
"I think, obviously, this is a really beautiful moment for them," executive producer Elizabeth Berger said on a TV Critics Association panel after a screening of the episode. "That being said, life goes on. And, you know, we're on the verge of Randall launching into this new political career where he's going to be a councilman, we're on the verge of her having finally figuring out what she wants to do. And her schedule is going to be changing, you've got three girls in the house. So, as exciting as this is for them, real life is going to continue, and there are still going to be challenges that come up along the way."
This goes right along with what EP Isaac Aptaker told us earlier this season, about how Randall's win was the last thing this family needed.
"In one sense, it's all he's wanted all season, and in another sense, it's a total surprise," Aptaker told us. "Perhaps the last thing that his family and his marriage needs right now is for him to become a public persona, a political figure somewhere that's an hour and a half drive from his home."
"It's just such a question mark of, how are we going to handle this?" Aptaker said. "And I think that's really what the next batch of episodes for that family are going to be about. We have a wife at a total crossroads in her career and figuring out what she wants to do for herself. We have a young girl who's just declared that she's questioning her sexuality, we have an adopted daughter who wants to reunite with her birth mother, and then now we have [Randall], who's just accepted this massive job in a career he's never worked in before, pretty far from home. So it's just going to be about how do they really try to maintain everything that's so special and amazing and close knit about their family while enduring quite a lot of obstacles."
Not only are they dealing with scheduling issues and time commitments and, you know, that 2 hour drive Randall's going to have to make all the time, there's the money to think about. We wonder constantly how anyone (besides Kevin) on This Is Us can afford anything, but we've been especially wondering about the financial state of Beth and Randall. Both have been unemployed for months now, and while Berger and writer Kay Oyegun assured the panel that they've been fine so far, that's not always going to be the case.
"Logistically, Randall was a highly paid weather trader, and Beth was an urban planner for a massive firm. So they have an amazing nest egg," Oyegun said. "But with that said, there will be a fork in the road that they're going to have to sort of answer those challenges coming up."
"We are going to be talking directly to that now," Berger added. "This is a very different situation in this house, in terms of two incomes that have drastically changed."
All that said, it doesn't sound like we should actually be worried about Beth and Randall, simply based on the way Watson described their marriage and what they do for each other.
"I found that what I love about Beth and Randall is, they're what each other needs," she said on the TCA panel. "They're the part that the other doesn't have. Randall is, sort of, very meticulous. He wants to be perfect. There's so much thought that goes into what he does that when he doesn't get it right, that's an extreme anxiety. And where Beth feels, to me, more like somebody who takes it as it comes and kind of open to whatever the next moment brings and feels like we can handle it. You know what I mean? It's not as premeditated. And she's looser where he's tight. But he has her when she needs it. She's not so strong that, you know, she can't be vulnerable with him. And so, there's these complements that they have. And I find that that's a lot of the reason for me why they work. Like, they're just able to be objective for each other in certain moments because they're not the same. So, they can see the person more clearly, but also, they fill in each other's blanks, you know? So, they come together in this easy, you know, puzzle piece way that really makes their love so endearing. There's just something I find really lovely about the way that they are there for one another, and they truly give their all to do that for each other."
One major moment in tonight's episode was when college-age Bethany decided to change her name to Beth, and then immediately turned around and ran right into her future husband. Berger said that a whole lot went into deciding on how that moment would go.
"A lot goes into that because once we've done it, then a few episodes later, we'll all be talking and we'll be like, hey, what if we did this thing? And then someone in the writers' room will be like, no, because we said this, and then we'll all feel bad and be like, why did we commit to that?" Berger explained. "So whenever there's something big like that, we give it a lot of discussion. And we are going to be revisiting that moment, and we're going to be revisiting other moments of their college experience coming up really soon in an episode that Kay just wrote, and we're really excited about."
So for now, Beth is looking forward to a beautiful dance-filled future, and she even made strides in her relationship with her mom, and Randall is there to support her. We'll just have to see what kind of toll all this passion is going to take on everybody's favorite marriage.
This Is Us airs Tuesdays at 9 p.m. on NBC.
E! and NBC are both part of the NBC Universal family.