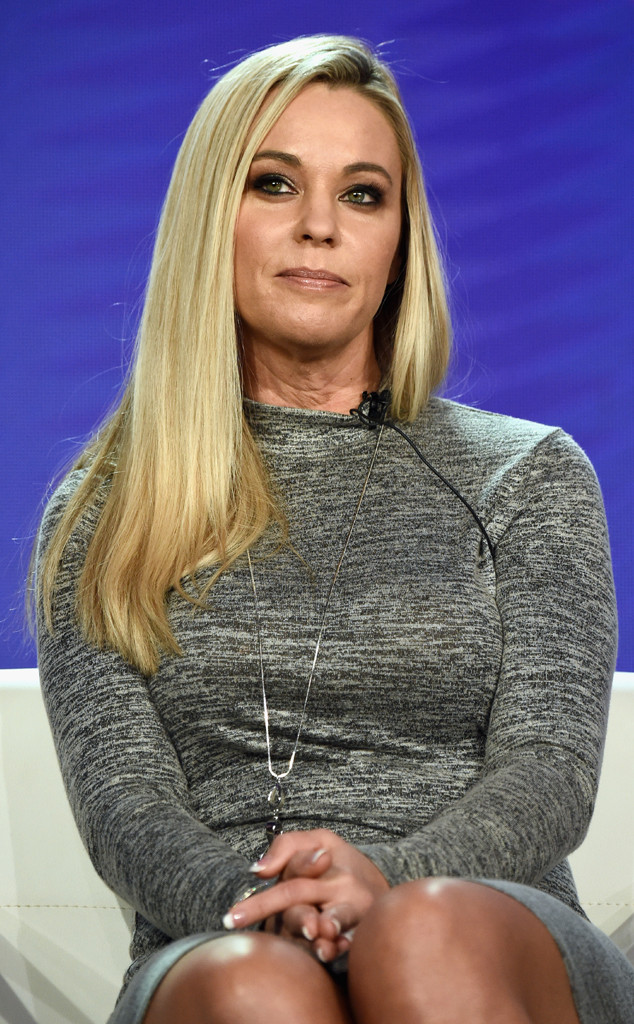 Amanda Edwards/Getty Images for Discovery
To think it was already 12 years ago when Jon & Kate Plus 8—and later, Kate Plus 8—first aired on TV.
The world met Jon Gosselin and Kate Gosselin as well as their twins Mady and Cara and sextuplets Alexis, Hannah, Aaden, Collin, Leah and Joel in 2007 and continued for 10 years until its final episode in 2017. In that span of time, Jon and Kate got divorced, dealt with custody issues and more.
Now, Kate is getting back into the reality TV world with her new show called Kate Plus Date. It involves the 43-year-old getting set up on dates by a matchmaker and hoping to find love. Kate and her daughters Mady and Cara discussed the upcoming show at a TCA panel in Los Angeles on Tuesday and how they feel about her mom immersing herself into the world of modern dating.
The President and General Manager of TLC, Howard Lee, introduced the Gosselin gals and the new show. "Almost 10 years after her divorce and with diapers, bottles, and sleepless nights a thing of the past, Kate Gosselin is ready to find love or, at least, like," Lee told the crowd. "With the help of professional matchmakers and her college-bound daughters Mady and Cara, Kate dives back into the dating pool. She puts it all out there, the good, the bad, and the super awkward."
Mady and Cara both voiced their support for their mom's decision to start this new chapter in her life. "We've been nudging her to date for years," Mady explained. "We're all, all eight of us, are so glad that she finally is."
Mady added, "She deserves to be happy. Everyone deserves to be happy."
Kate chimed in later and said the 18-year-old twins will be "weighing in and helping me out" when it comes to dating. She divulged that it was "difficult" to articulate to her matchmakers what specific qualities she wanted in a potential date, which led to a lot of "awkwardness, uncomfortable, terrified reactions." She called the dates "hit or miss" and said she felt "awkward" much of the time.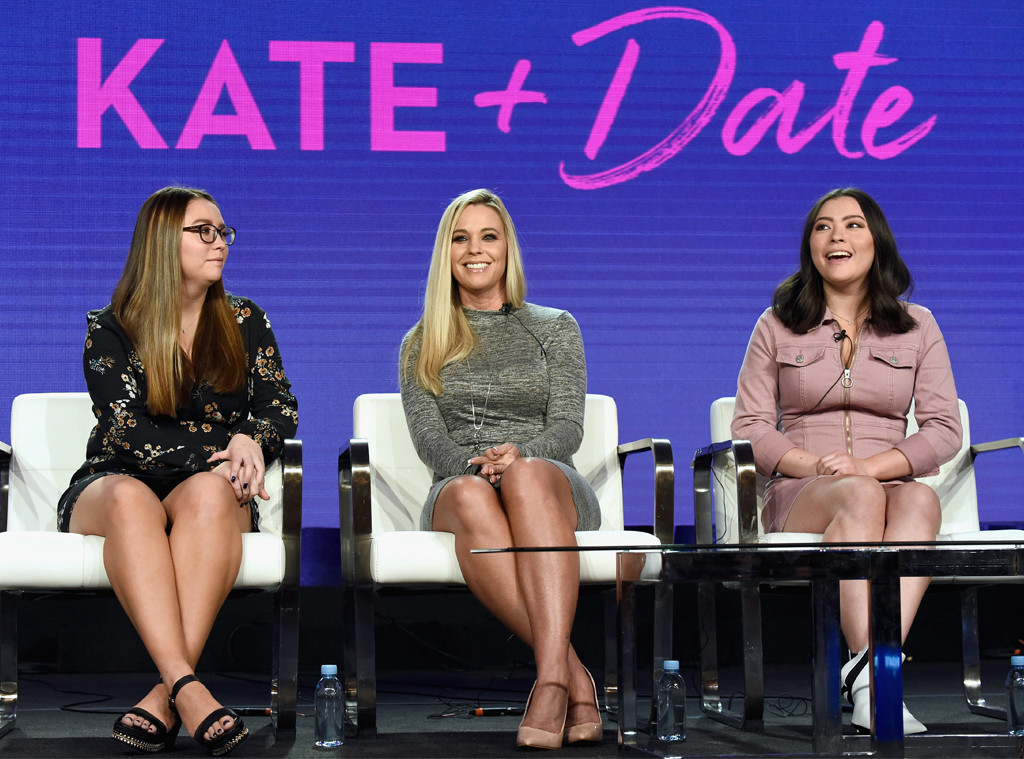 Amanda Edwards/Getty Images for Discovery
Her dating pool expanded to New York City and other places in order to "cast a wider net," but she felt it was important to "stick close to home in terms of looking for people."
Another high priority for Kate was that the show is appropriate enough to "not feel cringey and uncomfortable" when and if her kids tune in. "I'm not a teenager, clearly," she said. "I'm 40-something and there's no other mom dating show out there."
The mom of 8 defended her decision to allow her children to be a part of a long-running reality TV show that could even potentially lead to spin-offs involving Mady and Cara going to college. "I feel like, more than anything, it has enriched their lives," she said of her kids being on TV. "It has made them world-wise and taught them a lot about people's intentions I think more so than other kids their age."
Kate praised her children as being "very intelligent and informed." She assured everyone that everything we see on TV is exactly as it seems. "I did it in a way that we live our real lives that that's filmed, and anyone who has worked with us knows what we don't do re-dos or retakes," Kate said.
After calling herself a "very protective parent," the registered nurse praised her two daughters sitting alongside her. "As far as Mady and Cara, particularly—and all the kids—I think that they're such good girls that I don't have to keep after them," Kate beamed. "They're self-driven. They have goals and dreams, and they're just good kids."
Kate doesn't "have to worry" about them going off to college because "they're very wise."
As for a show involving Mady and Cara plus college, "that's absolutely up to them."
She insisted, too, that "We are close with all of my kids, their brothers and sisters."
Jon recently won temporary sole legal and phyiscal custody of their son Collin. Hannah Gosselin also lives with her dad in Reading, Pennsylvania. Mady and Cara, on the other hand, seem to have a bit more of a strained relationship with their father.
Cara told People in 2016, "I wouldn't even know what to say about him."
Mady revealed in the same interview, "He makes it seem like we're being kept from him, which is insane. He should maybe spend some time thinking about why we don't want to see him, and maybe realize that if he ever does want a relationship with us, talking about us on TV is not the way to make that happen. He doesn't even know us."
Overall, Kate embraced the matchmaking opportunities and took it all as an educational experience. "I learned so much about myself and so much about how I react to different situations," she shared. "It's painful at times. I'm hard to watch, exciting, awkward, fun and really rewarding."
Kate Plus Date premieres in June on TLC.
Don't miss E! News every weeknight at 7, only on E!